Film Development Program
by Manual NYC
Regular price

$12.00
Sale price
Pickup currently unavailable
Share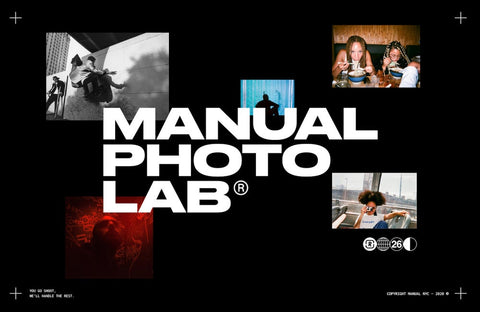 We're excited to open our lab and offer mail-in film development for the first time!
This is an all-in-one development and scanning service.
Currently we only support the following film types*:
35mm Color - $12.00 (per roll)
35mm B+W - $13.00 (per roll)
120mm Color - $12.00 (per roll)
120mm B+W - $15.00 (per roll)
C41 processing only. We do not offer E6 (slide film) processing.
Film is not included with purchase.
HOW THIS WORKS:
1. Within 24hrs of placing your order we will send you a prepaid return label to your email address on file. Print out this label and use it to send in your rolls to us for development [packaging and film not included].
2. Once we receive your film, we will email you a link to download your photos within 3-5 business days. This link will expire in 2-3 weeks. Photos will be emailed to the email provided on the order. You can track your order status using the tracking number on your label at any time (even after shipping, you can locate this in your email).
3. If you would like to receive your negatives, please make an order note or shoot us an email at support@manualphoto.com. We will hold unclaimed negatives for up to 30 days from when you receive your scans.
PLEASE NOTE: In order to streamline our process and keep our prices low, we do not offer the option to push or pull your film and we do not offer physical photo prints - only digital scans. We also do not offer E6 Slide Film Processing. C41 only. If you'd like your Slide Film cross-processed using C41 chemicals, please make an order note.
*Disclaimer: We are not responsible for any damaged photos or blank rolls